VARIO Operating Key
VARIO Operating Key
VERSATILE
VARIO Operating Key is a special tool to actuate valves and hydrants above and below the ground, as well as in manholes. By using a wide range of operation insets VARIO Key can be used to operate valves as well as hand-wheels. Insets can be changed quickly and conveniently by pressing integrated spring connection pieces. By adding a ratchet, cross joint or other modifications, VARIO is even more versatile.
While exclusively using stainless steel pipe-in-pipe construction, VARIO is GS approved (German seal of quality for tools) and can transmit up to 400 Nm of torque or up to 1000 Nm using the SUPER-VARIO.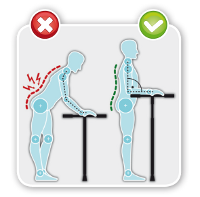 ERGONOMIC
VARIO Operating Key is ergonomically designed. By being easily adjustable in height, the operator is able to stand in an upright position, sparing his back and spine from a hunched position that may lead to physical injuries. Furthermore, both sides of the VARIO T-handle can be extended to generate additional torque.
COMPACT
VARIO Operating Key can be disassembled and transported easily, compactly and safely using the transport bag provided. Pipe-in-pipe construction also reduces the weight of the VARIO Key significantly, making handling and transport even more convenient.