SMO Flex
SMO Flex
Function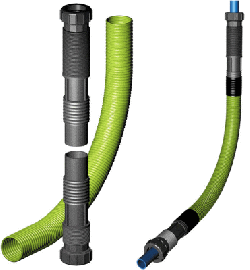 Flexible and individual customisable casing pipe wall duct for sealing supply and disposal pipes. Outer diameter between 20 mm and 63 mm, applicable for buildings without basement
Components
•   Casing pipe, ABS
•   Rubber seal, NBR
•   Screws, PA
•   Spiral coiled tube, PVC
•   Shrinkable tubing, PE, inner adhesive coating
Production
Injection moulded casing pipe with pre-assembled rubber seals and screws. Ends connected by spiral coiled tube. Spiral coiled tube connected and sealed to end pieces by shrinkable tubing. Also available both-sided..
Characteristics
•   Casing pipe with special outer design for high extraction and rotatability resistance.
•   Length arbitrary to individual requests.
•   Bendable to flexible arc.
Details SMO – component Flex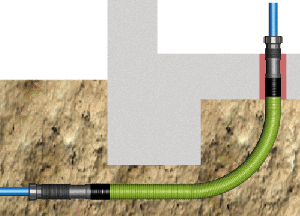 KETTLER SMO-1
| | | | |
| --- | --- | --- | --- |
| d [mm] | do [mm] | UOP | Sales No. |
|  20 |  62 | 1 | SMO 10 020 |
|  25 |  62 | 1 | SMO 10 025 |
|  32 |  62 | 1 | SMO 10 032 |
|  34 |  62 | 1 | SMO 10 034 |
|  40 |  62 | 1 | SMO 10 040 |
| | | |
| --- | --- | --- |
| Assembling-Set SMO-1 | UOP | Sales No. |
| Beginner-Set resin | 1 | ZMD 10 008 |
Accessories SMO-1
UOP
Sales No.
Distance hulls
1
ZMD 10 016
Adaptor
1
ZMD 10 015
back-up wall seal
24
ZMD 10 005
Spiral coiled tube
50m
ZMD 10 003
Skrinkable tube
10cm cut pcs.
18
ZMD 10 004
Tube clamp
10
ZMD 10 001
Strap Wrench
1
ZMD 10 046
| | | |
| --- | --- | --- |
| Assembling material and aids for SMO-1 for assembly with mortar | UOP | Sales No. |
| Back-up funnel | 1 | ZMD 00 041 |
| Quick assembling mortar 5kg bucket | 1 | ZMD 00 040 |
| Quick assembling mortar 25 kg bucket | 1 | ZMD 00 042 |
| | | |
| --- | --- | --- |
| Assembling material and aids for SMO-1 for assembling with resin | UOP | Sales No. |
| Expansion resin double-chamber satchel |  15 | ZMD 00 006 |
| Manual pressure gun |  1 | ZMD 00 001 |
| Standard nozzle |  15 | ZMD 00 002 |
| Hand protection spray (100ml) |  1 | ZMD 00 030 |
| separating agent spray (400ml) |  1 | ZMD 00 031 |
| Blind gasket |  1 | ZMD 10 006 |
KETTLER SMO-2
| | | | |
| --- | --- | --- | --- |
| d [mm] | do [mm] | UOP | Sales No. |
| 40 | 82 | 1 | SMO 20 040 |
| 50 | 82 | 1 | SMO 20 050 |
| 60 | 82 | 1 | SMO 20 063 |
| &nbsp | | | |
| &nbsp | | | |
| | | |
| --- | --- | --- |
| Assembling-Set SMO-2 | UOP | Sales No. |
| Beginner-Set resin | 1 | ZMD 20 010 |
Accessories SMO-2
UOP
Sales No.
Distance hulls
1
ZMD 10 016
Adaptor
1
ZMD 20 015
back-up wall seal
24
ZMD 20 005
piral coiled tube
50m
ZMD 20 003
Skrinkable tube
10cm cut pcs.
18
ZMD 20 004
Tube clamp
10
ZMD 20 001
Strap Wrench
1
ZMD 00 046
| | | |
| --- | --- | --- |
| Assembling material and aids for SMO-2 for assembly with mortar | UOP | Sales No. |
| Back-up funnel | 1 | ZMD 00 041 |
| Quick assembling mortar 5kg bucket | 1 | ZMD 00 040 |
| Quick assembling mortar 25 kg bucket | 1 | ZMD 00 042 |
| | | |
| --- | --- | --- |
| Assembling material and aids for SMO-2 for assembling with resin | UOP | Sales No. |
| Expansion resin double-chamber satchel |  15 | ZMD 00 006 |
| Manual pressure gun |  1 | ZMD 00 001 |
| Standard nozzle |  15 | ZMD 00 002 |
| Hand protection spray (100ml) |  1 | ZMD 00 030 |
| separating agent spray (400ml) |  1 | ZMD 00 031 |
| Blind gasket |  1 | ZMD 10 006 |