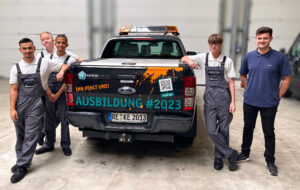 Auszubildende 2023
Herzlich willkommen! - Ausbildungsstart 2023 Im neuen Ausbildungsjahr begrüßt die KETTLER GmbH gleich fünf neue Auszubildende als Fachkräfte für...
Weiterlesen
Welcome to KETTLER GmbH
KETTLER GmbH is one of Germany's leading manufacturers of accessory products for the civil engineering industry.
All our products are designed and manufactured to match the highest quality, longevity and efficacy demands. With more than 50 years of valuable experience, the KETTLER brand stands for continuous service, reliability and innovation.
Are the products on display not exactly what you are looking for? Please do not hesitate to contact us by phone or email! Our staff is happy to assist with individual solutions that meet your demands.
+49 (0) 23 69 / 91 82 - 0