Accessories
Accessories
Function
Comprehensive range of accessories to complement spindle extensions as well as the operation of under and over floor valves.
Products
Operating Key DIN 3223
Ergonomic VARIO Operating Key
Cast or forged spindle extensions
Special geometry operating elements
Square or three-edged operating elements, GTW 40
Valve specific dirt disks
Universal dirt disks with integrated steel inlays
PE bell tubes
Production
Produced according to norms and proven quality standards. Protected against corrosion, accurate to dimension and fit.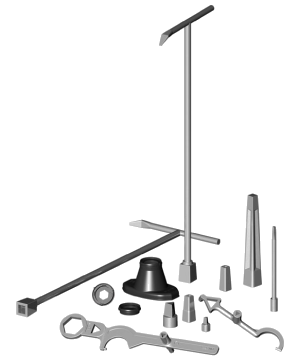 Accessory detail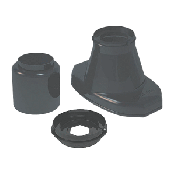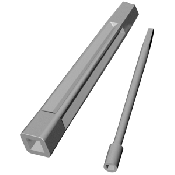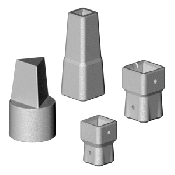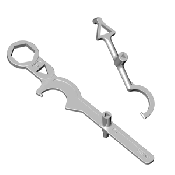 Universal dirt disk – KIT/ECO
Model
UOP
Sales No.
A
wrench size
30-40 / 40-50
16
EKE 01 000
B
diameter
12 mm - 35 mm
16
EKE 01 002
Beta bell tube adaptor – KIT/ECO
Beta bell tube
DN
UOP
Sales No.
40-50
10
EKE 00 110
65/80
10
EKE 00 111
100
10
EKE 00 112
125
10
EKE 00 113
150
10
EKE 00 114
Rod extension
Model
l
[]mm
UOP
Sales No.
for service valves
100
150
200
250
300
350
400
500
10
10
10
10
10
5
5
5
VSV 00 010
VSV 00 015
VSV 00 020
VSV 00 025
VSV 00 030
VSV 00 035
VSV 00 040
VSV 00 050
for gate valves
100
150
200
300
400
500
10
10
10
10
5
5
VSK 00 010
VSK 00 015
VSK 00 020
VSK 00 030
VSK 00 040
VSK 00 050
Operating squares – electrolytically galvanised version incl. grub screw
Model
Wrench
[Typ]
Rod dimensions
& shape
UOP
Sales No.
Service v.
GG 25
C
C
C
13 mm ◊
14 mm ◊
16 mm Ο
5
VKS 00 040
DN 40/50
DN 40/50
C
C
19 mm Ο
14 mm ◊
5
VKS 00 006
VKS 00 033
DN 65/150
DN 65/150
C
C
22 mm Ο
18 mm ◊
5
VKS 00 078
VKS 00 051
DN 175/200
DN 175/450
C
C
30 mm Ο
25 mm ◊
3
VKS 00 025
DN 250/300
C
34 mm Ο
3
VKS 00 073
DN 400/450
C
40 mm Ο
3
VKS 00 077
Marking-Clip – KIT/ECO
Model
Colour
UOP
Sales No.
Marking-Clip
for service valves
Blau
Yellow
Red
Black
16
16
16
16
TSE 00 017
TSE 00 018
TSE 00 019
TSE 00 020
Marking-Clip
for gate valves
Blau
Yellow
Red
Black
16
16
16
16
TSE 00 021
TSE 00 022
TSE 00 023
TSE 00 024
Coupling sockets – electrolytically galvanised version incl. grub screw
Model
Valve
spindle
[mm]
Rod dimensions
& shape
UOP
Sales No.
Service valve
Service valve
12,3
12,3
16 mm Ο
20 mm ◊
5
5
KPM 00 270
KPM 00 271
DN 40/50
Gate valve 40/50
14,3
14,3
19 mm Ο
20 mm ◊
5
5
KPM 00 273
KPM 00 274
DN 65/80
Gate valve 65/80
17,3
17,3
22 mm Ο
25 mm ◊
5
5
KPM 00 276
KPM 00 277
DN 100/150
Gate valve 100/150
19,3
19,3
22 mm Ο
25 mm ◊
5
5
KPM 00 278
KPM 00 279
DN 175/200
Gate valve 175/200
24,3
24,3
30 mm Ο
34 mm ◊
3
3
KPM 00 281
KPM 00 282
DN 250/300
DN 250/300
27,3
27,3
34 mm Ο
34 mm ◊
3
3
KPM 00 284
KPM 00 285
DN 400/450
32,3
34 mm ◊
40 mm Ο
3
5
KPM 00 286
Operating Keys
Model
UOP
Sales No.
DIN 3223 A
over floor hydrants
3
BTA 00 010
DIN 3223 B
over floor hydrants
3
BTB 00 010
DIN 3223 C
under floor hydrants
3
BTC 42 011
DIN 3223 E
tapping valves
5
BTE 32 075
Three-edged operating wedge – electrolytically galvanised version incl. grub screw
Model
Rod dimensions
& shape
UOP
Sales No.
service valve small
13 mm ◊
14 mm ◊
16 mm Ο
10
DKS 00 002
large - VK 18,9
18 mm ◊
10
DKS 00 005
large - VK 14,6
13 mm ◊
14 mm ◊
16 mm Ο
10
DKS 00 006