Super-VARIO / VARIO-LED
Super-VARIO / VARIO-LED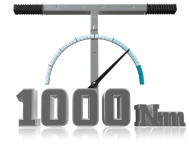 SUPER-VARIO can transmit up to 1000 Nm of torque due to its reinforced T-handle, telescopic rod and gate valve operating element. All additional insets may also be applied to SUPER-VARIO by use of adaptors, although due to their construction they are designed to withstand only 500 Nm of torque.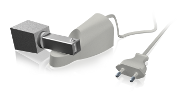 VARIO-LED was designed for use during night-time operation or operation in dark places. LED technology integrated in the operating socket enable efficient and precise mounting of the Key to the spindle extension's operating element. Illumination can be turned on and off in three easy steps.
LED operating sockets are sealed completely and therefore sealed water and dirt tight. The integrated battery is recharged by an inductive charging station.
VARIO operation insets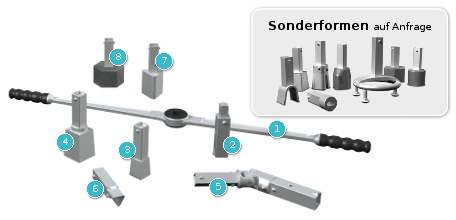 Double-sided ratchet
Ratchet adaptor
Operating socket "small" for service valves
Operating socket "large" for gate valves
Cross joint
Operating socket "small" Three-Edged-Wedge
Operating socket "large" Three-Edged-Wedge
Operationg socket Hexagonal
Additional shapes of operating sockets are available on request